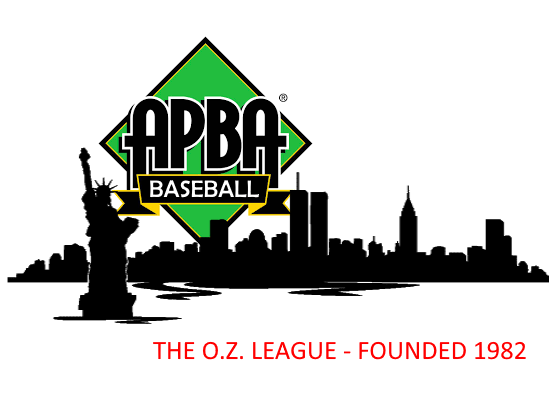 Dom Provisiero, Tommy Sims, and Dennis Monroe created the O.Z. League in the fall of 1981. Joined by Dom's brother John; Dom's cousin Howard Felson; and a friend named Tony Tisi; these six men formed the genesis of this APBA Baseball League.

They chose the name "O.Z." because 5 of the original 6 members lived in Ozone Park, Queens. Little did they realize at the time this League would be maintained and grow to prosper for over three decades. It has become a model League for APBA players throughout the country and has proudly served as the premier APBA Baseball League in New York.

The inaugural season began with each League Member owning and controlling two (2) teams; one comprised from American League players and the other from National League players. Each of the teams played a 100 game schedule; meaning that for the first season each Franchise Owner was responsible for playing 200 games face to face!! The following season each Owner consolidated their 2 Franchises into a single team and completed a standard 162 game schedule.

The initial "Rookie Draft" utilized the strike shortened 1981 APBA card set. Nolan Ryan (A&C) was the very first player selected in the N.L. by the Ozone Outlaws; with Goose Gossage (A&B*) being the first selection in the A.L. by the Baltimore Orioles.

Over the years, the playing rules have been adjusted through the voting process of the Franchise Owners and the size of the League has fluctuated from a low of 5 to a high of 16. But throughout the rule tweaks and membership changes the purpose of the O.Z. League has remained the same: it was created with the hopes that all who joined could pursue their love of Baseball as owners, managers, and general managers.

Through its existence, the O.Z. League has truly evolved into a family bonded by Baseball. It has created many memorable moments and formed friendships that would be etched forever into our lives. Without APBA and O.Z. many of us never would have met. And the rest, as they say, is history.